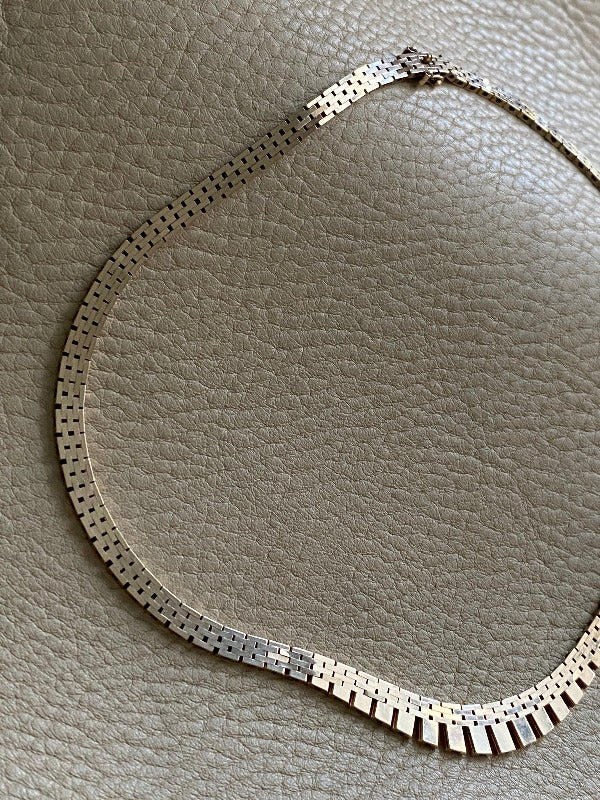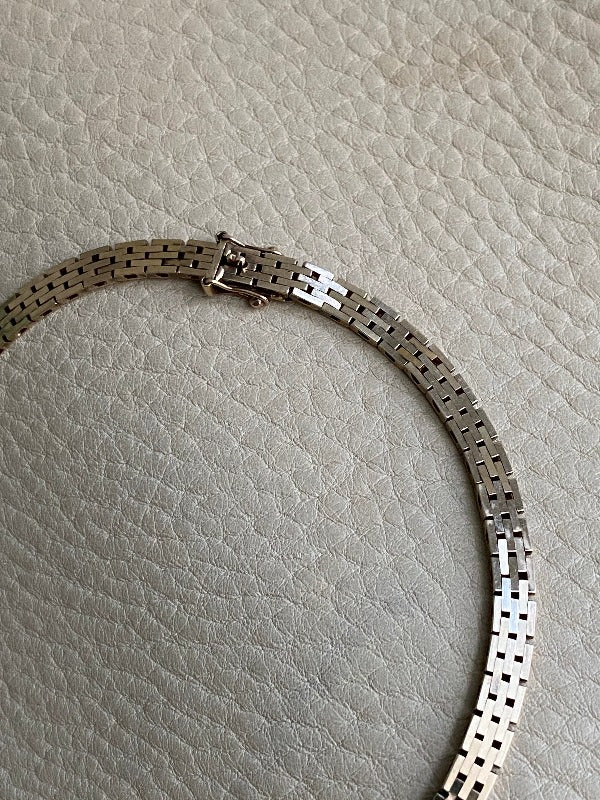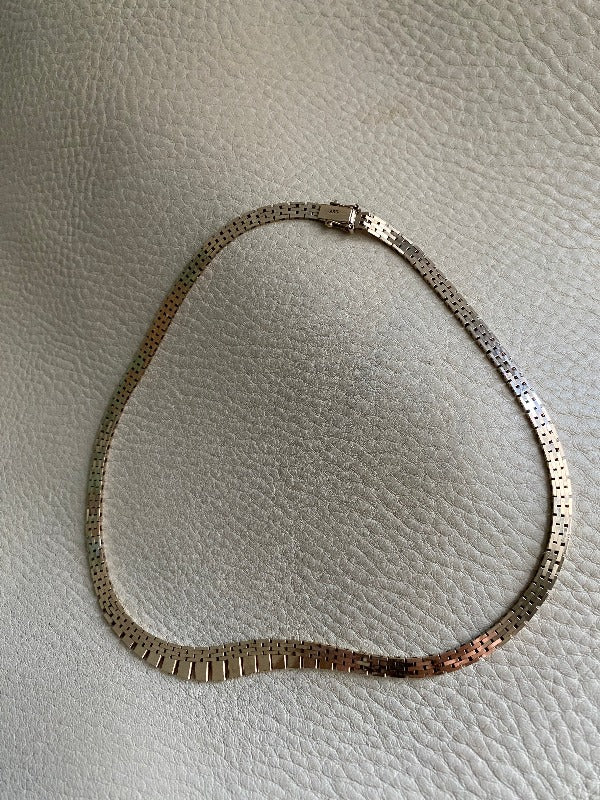 Dazzling 30g Danish gold brick link necklace - Cleopatra link, solid 14k gold - 1960s

Free USA Shipping

Handmade

High quality leather
Welcome to my jewelry box. In addition to leather, I have a fondness for fine yet wearable solid gold and silver jewelry. In particular I love fine mid-century pieces from Sweden, Finland, Denmark, and Italy. I import the best pieces from Europe to wear and share.
***

Gold link jewelry is gold textile as jewelry - well that's how I think about my particular fascination with gold link. Obviously I'm a textile lover as I've devoted my design business to bending, sewing and musing over leather textiles. Solid gold forged into slinky chains is another chapter in my oohing and aahing over beautiful pliable yet strong constructions.

***

Stunning 30g Danish gold brick link necklace - Cleopatra link solid 14k gold
Danish vintage, 14K gold, 16.5 inch length necklace, a substantial 30 grams!
A phenomenal example of a Danish brick link necklace with cleopatra fringe. This style was popular in Denmark in the 1960s but nowadays they are very difficult to find. This piece is in excellent vintage condition with normal age related wear. 
I love the way the bars of solid gold undulate perfectly over the shape of your collarbone. She feels effortless to wear even though the weight is substantial at 30g!
A sophisticated and very wearable piece you'll receive countless compliments for.
***

Details

Only one available
Maker HC Kauffmann
Active 1962-2008
Copenhagen, Denmark
5-9mm wide
16.5in length
Marked for maker and gold purity
30g
14k solid gold
Excellent vintage condition, normal age related wear
Break down your payments at no charge with ShopPay - the purple icon above.
Please reach out with any questions jill@scabbyrobot.com
Interior key ring
Each Wedge Bag is made with an interior key ring that is perfect to clip your keys so that you never lose them again.
Also works great with one of my leather leashes to connect a zipper pouch or anything else you like to keep at hand.