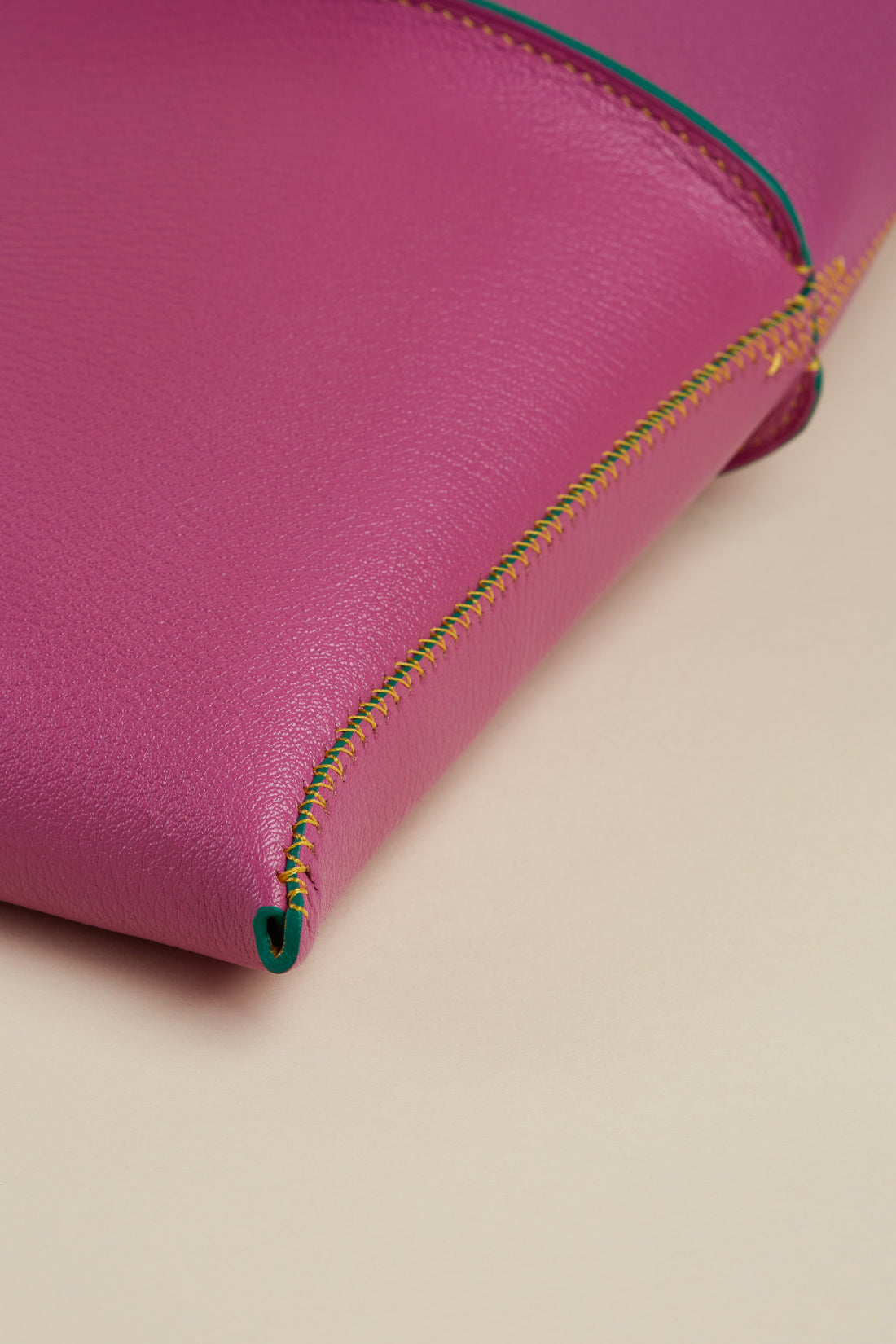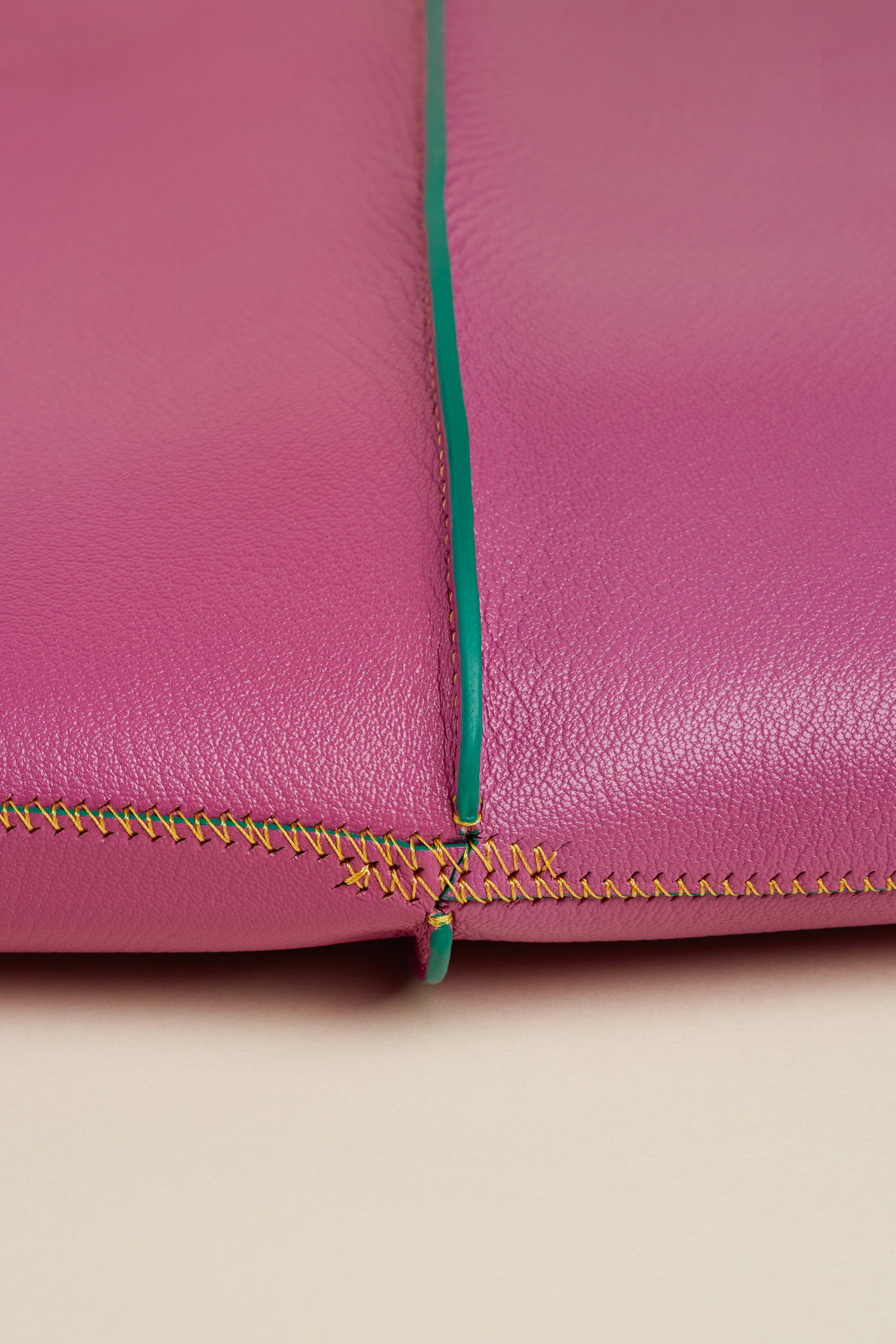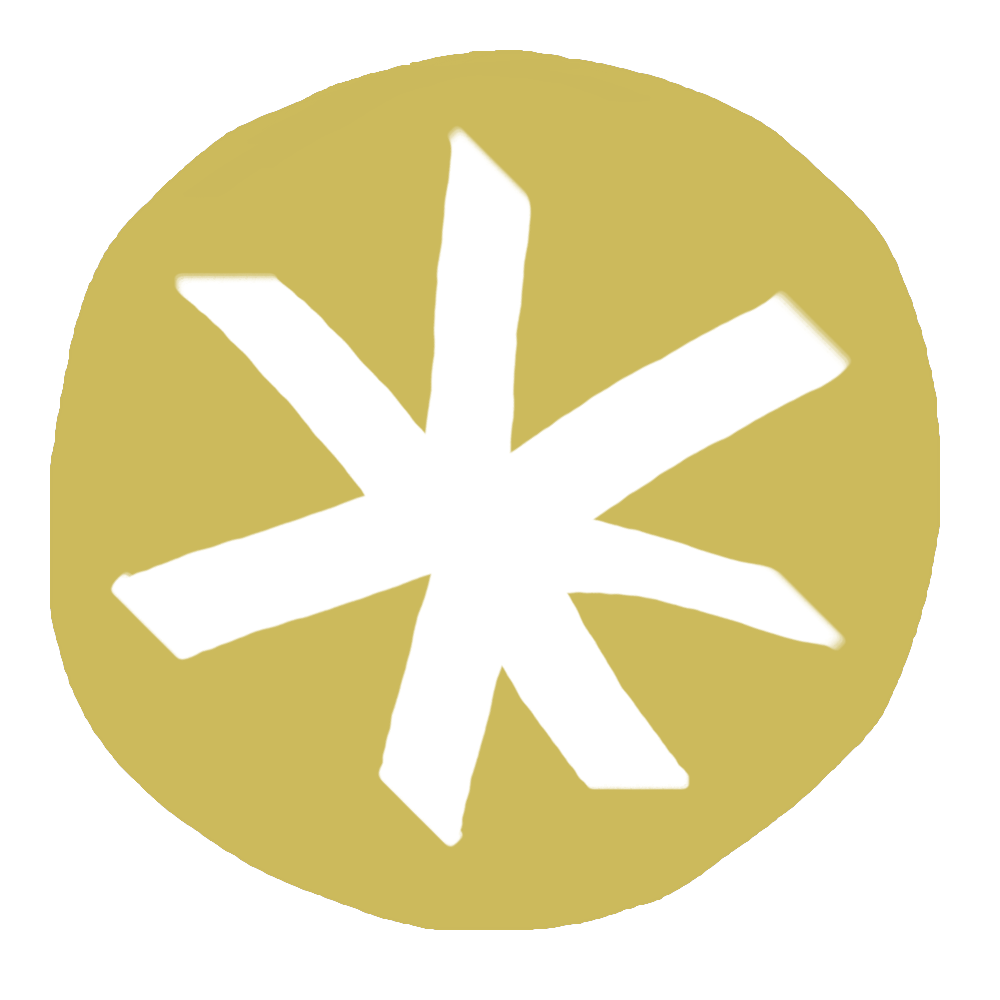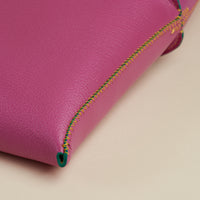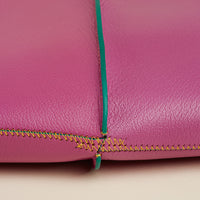 Wedge handbag - French goat leather in Dahlia - Luxury edition *02

Free USA Shipping

Handmade

High quality leather
For years a daydream of mine has been wondering what happens when every detail of my Wedge handbag design is executed to the highest level of hand craftsmanship?
To find out, I've collaborated with friend Mark Hanks who operates a fine leather atelier in San Francisco. Mark is trained in french traditional leather working and does beautiful work.
We have collaborated to make this Dahlia pink goat leather Wedge handbag fully lined with pearlescent gold lambskin lining (with pink interior pocket), sunshine yellow stitch detail and contrasting teal edge paint.
Individually made, one of a kind piece

Measures approximately 13" wide x 27" overall drop

Uniquely marked and numbered *02

Includes sdust bag and certificate of authenticity
Some of my favorite details:
Hand stitching
Mark drawing from his Hermès lineage classical training, shows off his incredible saddle stitching and edge treatment skills.
Each stitch is individually hand pierced with a diamond-shaped awl then stitched through with a single thread and two needles, one at each end of the thread.
Traditional french style edge finishing
Notice that crease that runs parallel to the edge line? Using a special tool, that crease is hot ironed into the leather in the traditional french style, showing the edges have been heat sealed.
After ironing Mark sands and paints those edges in multiple rounds to get the perfect finished cross section. Not only does this finish look sleek but it helps to protect the handbag from moisture. 
Artisinally made leather
We are using a goat leather known as Chevre Chagrin Sully from the Alran tannery in France. This is the same excellent leather used by luxury handbag brands (think Fendi, Hermès).
It is a full grain leather, vegetable tanned in a unique 23 step process that takes over 3 weeks to produce each hide; a special technique that involves much handwork to give it a distinctive look.
The "Chagrin" refers to a particular grain texture which is brought out with special tannins and finishing. In addition to being gorgeous it happens to be durable, scratch resistant, and also stain resistant. This is very special leather.
Shoulder grip
A bit of suede texture will keep your bag in place on your shoulder; at the strap arc we've reversed a segment of leather to reveal the suede side.
Hand placed stitches in contrasting thread color highlight this sweet detail. 
Interior pocket
Mark suggested a gorgeous lined pocket shape which narrows at the bottom, gently gripping the base of your phone so that it doesn't rattle inside as you walk. It's a refined detail that I love.
It is a gorgeous piece fully living up to my imagination. It invites touch, it smells amazing, it even sounds magnificent (squeezing it sounds luxurious omg). 
Designed and made in San Francisco in the fall of 2020

Designed by, Jill Harrell

Made by, Mark Hanks
Interior key ring
Each Wedge Bag is made with an interior key ring that is perfect to clip your keys so that you never lose them again.
Also works great with one of my leather leashes to connect a zipper pouch or anything else you like to keep at hand.